Details

Category: EV Technology
Published on Monday, 21 May 2012 15:09
Written by Tejas Joseph
Hits: 1154
A look at the electric vehicle batteries and materials landscape today
Most green technologies are not so green on closer examination it turns out. Electric vehicles are no exception and the batteries that power them and the materials used in their fabrication seem to be at the core of the problem by all accounts.
In China and other countries of the developing world (including India) lead acid vehicle batteries invariably end up in the local river or landfill after discharging a few years of short service. The batteries in 125 million e-bikes in China last a mere 300 cycles,which is barely one year of life. Unfortunately, lead acid batteries that were powering the first generation of electric vehicles – from bikes to golf carts and forklifts - did not have very green footprints owing to soft regulations and poor advancements in storage technology. But tighter legislation (in the USA, Europe and Japan), more vociferous customers and some key technological breakthroughs are likely to phase out lead acid batteries by the end of this decade. Which is well because the World Health Organisation (WHO) reports that 120 million people are currently exposed to the health undermining effects of lead. It is further understood that a great majority of these people are in occupations in the developing world (like cheap mass manufacturing of goods) where the presence of lead is very high.
A recent event show casing the state-of-the-art in the industry that took place in Silicon valley took a long hard look at the current electric vehicle battery and materials scene. It introduced some exciting research developments while dispelling some myths at the same time. It turns out that lead is not the only contender for the toxicity sweepstakes. For instance it was pointed out by Electrovaya, a leading Canadian traction battery maker, that methyl pyrollidone used in the manufacture of lithium ion batteries is quite toxic,more than was realised before. It is capable of inducing birth defects and is now classified with mercury on the same toxicity scale.
If this was a shocking revelation to delegates. Elbit systems,a leading Israeli defense company,wowed them with findings that could probably be the basis of the next generation of batteries. Using little more than water and carbon, super-capacitors,according to Elbit, had the potential to reach high energy densities (comparable to lead acid batteries) but with far longer life and a faster charge/discharge factor. Studies done by the University of Texas' school of engineering have also reported similar achievements claiming that such devices worked well at low temperatures,something most batteries have a problem with currently. Super-capacitors also win the race for being the greenest of them all. A bus operator in the USA is already powering its fleet solely with super-capacitors (and no batteries!).Oshkosh, a truck maker, now has a hybrid where super-capacitors replace the traction batteries, stating that they are 'driven as much by life and performance as by superior green credentials.
Alongside the need to develop more efficient storage devices is the drive to replace rare and expensive raw materials needed in the fabrication of both batteries and motors. As seen with super-capacitors, these substitutes often come with improved performance. It is to be seen if they result in reduced costs as well. Advances in motor technology with new materials and new techniques look promising. Nidec of Japan claim that they have achieved the lowest cost point of any traction motor. They have not only dispensed with expensive magnets containing neodymium and dysprosium, they do not even have a copper winding in the rotor. Copper prices have been on the upward swing along with rare earths.
These developments seem to point in a direction where energy harvesting technologies and applications are moving away from conventional storage devices (batteries) as well as a range of toxic materials used in their production. This is good news for us and the planet.
Details

Category: EV Technology
Published on Friday, 19 August 2011 11:52
Written by Tejas Joseph
Hits: 2107
EVfuture builds and installs a solar charging station for a nature park in Chennai

The Adyar Tholkappia Poonga project is a first of its kind in India. It is an ambitious program of ecological engineering that reclaimed and re-greened an estuary of the Adyar river,which empties into the Bay of Bengal to the north of Chennai. Extending over an area of 58 acres,the Poonga is a permanent exhibition of the symbiosis between man and the biosphere relayed to visitors through the medium of art : elaborate and detailed drawings,sculptures and illustrations of insects,birds and a variety of animals. Designed and developed from ground up the Poonga (as it has come to be known in popular parlance) took 5 years to complete its first phase. The Poonga is a rare exercise in creating a green oasis and sanctuary in the middle of a bustling and highly polluted Indian metropolis. It is a model that can be replicated by many Indian cities, bolstering and adding value both to their ecologies and societies in the process.  
Coming soon - bird watching as an urban pastime : The cultivated water bodies of the Adyar Poonga also hopes to attract many species of local and migratory birds to come and nest here over time. What a blessing this could be someday (to those who dwell in the high rises that dot the Poonga on almost every side) to bird watch exotic species from the convenience of their balconies or bedroom windows! In simple terms the Poonga attempts to illustrate the value and necessity of ecosystems through its integrative model. It attempts to educate the people of Chennai ( and its school going children in particular) about the fragile thread that links us all and the collective need to take care of it. 
Renewable and Sustainable! : The judicious integration of alternate technologies and renewable energy is part of the Ponnga's agenda for a cleaner and greener environment. A giant water pumping windmill and solar street lamps along its pathways attest to this aspect of the park's theme.
The Poonga and EvFuture: Partnering non polluting transportation EVFuture was commissioned in 2010 to build an electric cycle rickshaw for garbage collection in the park, Earlier this year we were asked to develop a solar based charging station for this electric 3-wheeler. EVFuture took this opportunity to develop a grid-free charging station powered by solar panels and capable of charging up to two light EVs at a time. We also used this occasion to fine tune and test a digital charge controller that we had been working on for sometime.
The station was transported from Auroville to the Poonga in Chennai in early June of this year and installed with no ceremonies. Today the Adyar Poonga is the proud owner of a modular solar charging station from Evfuture that boasts a power center comprising of (1) 180 aH battery : (4) Solar Panels of 80watts capacity each and : (1) 700 watt inverter.   
The system incorporates our custom designed digital charge controller that indicates at a glance power input/output .This,we believe, is a novel feature that goes to make such systems more user friendly and interactive besides making for more efficient troubleshooting.
And when you are in Chennai next, please make some time to visit the Adyar Poonga. Its a wonderful experience,and not just for our EV solar charging station we can assure you.
To know more about this unique eco project see www.pitchandikulamforest.org
Details

Category: EV Technology
Published on Friday, 04 February 2011 11:49
Written by Super User
Hits: 2357
We have developed an advanced Battery management system (BMS) that will plug into any standard controller.  It has a 128x64 pixel graphic LCD display and shows and monitors battery state.  The prototype in the picture detects speed automatically from the hall sensors of the motor and the wheel diameter.  It monitors current, voltage and distance travelled.  A trip counter button lets you reset the trip counter so you can easily track distance between charges.   Another button, the Mode button, lets you switch between 4 different driving modes.   Full mode lets you drive at maximum power, where the controller you use is the limit.  20A mode limits current to twenty amps, making riding still enjoyable but with somewhat less pickup.  10A mode limits power to 10 Amps, making the bike slow but steady.  This is the ideal mode for economy driving, and goes about 25 km/h.   A 25k/h mode limits the speed to 25 km/h but does not affect power.
Another feature of this BMS is an external temperature sensor that connects to the controller casing.  Monitoring of this lets the BMS switch off or reduce power based on the heat of the controller, making it more difficult to blow the electronics.
We are developing this into a product which we hope to sell on the indian market and abroad.  Interested parties should contact us for more details.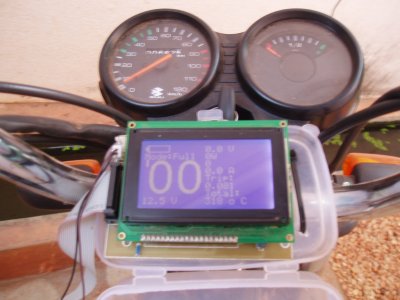 Details

Category: EV Technology
Published on Friday, 25 February 2011 11:38
Written by Tejas Joseph
Hits: 1876
Storage Technologies need to catch up with the rest of the EV train
It is widely acknowledged now that storage technology is lagging behind other critical EV technologies. And this has to change if the promised EV revolution is to take place as we anticipate and desire. While research expenditure on battery technologies is on the rise, it is still small when compared to other critical automobile and mobility related R&D spending. The United States Advanced Battery Consortium (USABC) spent an estimated 5.43 million dollars in contractual funding on research in advanced battery technology for EVs and hybrids in 2010. While this is just a drop in the battery research grants ocean, it seems to have produced some exciting results, one of which is the Matrix Battery Technology developed by a Californian storage technology specialist, Quallion. The Matrix Battery Technology relies upon a special configuration of combined series and parallel cells that can perform optimally even if an individual cell becomes dysfunctional. This critical ability can help manufacturers address reliability issues while bringing down costs, the company claims. It has also been noticed that employing a mass of small cells (the matrix concept) reduces overall temperature of the system by diffusing heat faster. Further, the unique construction of the matrix battery system (modular in nature) allows for scaling up and reshaping permitting versatility and reuse. This salient feature will provide manufacturers great flexibility and scope to address specific battery needs, as vehicle specs in the EV category are frequently subject to alteration. The Matrix battery concept can help optimise EV performance by tailoring it to match vehicle dynamics it is believed. Quallion states that their Matrix Battery Technology can also meet applications in the demanding fields of medicine and defense research.
Looking beyond Lithium
While government allocation for research funding for advancing battery technologies is on the rise, it pales in comparison to the resources - money, manpower and time - that automobile giants are dedicating to this vital area. Toyota is working on a magnesium-sulfur combination that they claim is the next step over lithium,the current rank holder for longer storage hours, weight, reliability and life. But experts  say that lithium's energy density is a hindrance to more widespread and successful applications both in automobiles and electronics devices. The new magnesium-sulfur batteries that Toyota are working on seem to have an edge in this regard and could likely go on production by 2020 if tests meet critical parameters,particularly costs and battery life.
For those of you interested in storage (battery) technologies - developments and future - write to us and we will send you a world state-of-the-art report on this significant research area (a PDF file) free.