Details

Category: Reviews
Published on Saturday, 12 February 2011 09:47
Written by tejas
Hits: 1512
Top of the line electrically assisted bicycles are gaining attention ( and market share) in England and Europe.
Spencer Ivy electric cycles (www.spencerivy.com) is a newcomer to the field of light EVs. It is the brainchild of designer/innovator Va Hua and is registered in the UK. Spencer Ivy is a member of the Association of Cycle Traders (ACT) and has accreditation from Cytech. Their electric cycles made news at the recently concluded London Bike Show in January 2011 with their high performance, simple but elegant aesthetics and great features.
The first thing that sets Spencer Ivy apart from the rest of their ilk is the fact that they are not made in the far east,like a majority of leading cycle brands today.They are crafted in the company's dedicated factory in Germany. This rather unusual shift of policy and company vision was driven both by a need to maintain high product quality (through sourcing premium components and assembling them in Europe itself) and to minimise their ecological footprints (through saving a lot of jet fuel and miles). Additionally they also claim to employ processes (body painting with special powder coating techniques for instance) that have minimal environmental impact. To stretch the environmental point further they have recently partnered with the ETA (Environmental Transport Association) to promote and popularise ebikes in England.
The second thing that distinguishes Spencer Ivy is their approach to marketing - visionary yet practical. Charity and the environment merge almost seamlessly with their technological and design high points.  They have teamed with Re-Cycle (www.re-cycle.org), a charity that collects and ships used/old bicycles to Africa and distributes them to those direly in need of basic personal transportation to get to work or school. They even offer to take away your old bike should you have one when ordering an electric cycle with them.
The only thing that could be said to go against a Spencer Ivy electric cycle is it's price. At 1,895 pounds it is unlikely to be the common man's chosen form of alternative transport however green the ride may be. But reviewers insist that you get good value for this money given all the high end accessories and trappings that come as standard fittings on this bike :- Shimano gears, Busch & Muller LED lights, puncture resistant Continental touring tyres, a very 'bottom friendly' saddle from Selle Royal and other peripherals that include high quality mud guards, a kick stand and a carrier from Pletscher.
The Spencer Ivy's heart ( or power center) is built around a Panasonic motor and battery system, which (according to industry ratings) is amongst the best in the market today. The Lithium Manganese batteries* on-board are estimated to give about 70 Kms to a charge and expected to live upto 500 charge cycles : i.e 4-5 years depending on use and maintennace of course.Top speed is about 30 kms,beyond which the motor cuts off in compliance with EU safety regulations for this category of vehcle. (*This is simply top billing in our opinion. Being makers and retro-fitters of e bikes and cycles ourselves we know how much a battery adds to the value of the mix).
Design wise the Spencer Ivy is remarkable for the way it has been conceived and configured. It employs a judicious power sharing interplay between pedals and the motor that "essentially preserves the experience and joy of a bicycle ride without the sweat and puffing". According to its creator Va Hua the Spencer Ivy electric cycle, again in a departure from the norm, was designed keeping moms with small children in mind who need to go shopping or to the park for a ride. It's more of a social ev you see, and not one meant for speed fiends or work-out maniacs!
An aside : e-cycles for India
True as this maybe, our roads ( not to mention our grids) here in India are so far removed from the predictably safe and smooth driving conditions of Europe or America. In our opinion designing and building an e-bike that is rugged,powereful and reliable is the winning formula needed for india. Ah, and lest we forgot – the cost!  We need Ebikes that can sell for within Rs.25,000 ( for a new one : Rs.10,000 for a retro fit) if we are going to kick start an ebike revolution in India. This will be about a fifth of the cost of a Spener Ivy. Anybody with a magic formula to make this happen, please write in.
A Note to our Indian readers and potential e-bicyclists:
We are happy to  reveal that India's premier bicycle maker BSA are getting ready to launch their first fleet of electric cycles later this year. And they are very affordably priced. Look out for them at their showrooms and dealers and pick one to augment/enhance your micro mobility needs.We will bring you a review of this new product soon.
Details

Category: Reviews
Published on Tuesday, 08 February 2011 09:01
Written by Tejas Joseph
Hits: 2325
Life always has the tendency to come full circle at some point.The personal automobile mass revolution kickstarted in the early part of the last century was made possible largely due to the availability of cheap auto fuels – petrol and diesel. The problem was that it was assumed that this situation would prevail forever.It was not until the 60s that it became clear to all ( apart from the specialists who had always known this) that oil ( from fossil fuels) was a finite resource and would dry out at some point, and what then? True as this was it was not easy to imagine a world (  or cars) without oil and we just kept going, out of apathy as much as for not having any alternatives to turn to. There was another problem with oil apart from its decreasing availability and continually rising prices. Oil ( rightly or wrongly) was the main actor in the climate change drama, being directly responsible for much of the pollution that caused it.
Cut to the beginning of the 2nd millenium and we notice a world awash in concern for new technologies (and fuels) for personal and mass mobility and a greener environment. The last ten years have seen the emergence of new automotive technologies that were the direct offshoots of the quest for alternatives to oil,that were also renewable and clean to boot.
Hybrids were the first to appear on the alt/eco auto landscape. The hybrid was the obvious way to go since it offered the best of two worlds. Hybrids were also the guinea pigs of the ev world upon which a spate of revolutionary new ideas rode and were being tested. Hybrids stand at the threshold of the transition to newer and better automotive technologes and propellants.
The Japanes are market leaders in hybrids and have served to stimulate a worldwide interest in hybrid cars.Thanks to the sucess of Toyota's Prius every major automaker – Ford, VolksWagen, Nissan, Honda and Hyundai – have added hybrids to their stable. What was until now something of a green fetish amongst select auto buyers is now becoming a serious shopping option with the recent jump in global oil prices being passed down to the local gas station across the world. Fuel economy (more than pollution) is now riding customer concern. In America it is also compounded by lifestyle requirements prompting auto makers to respond by creating models that balance fuel efficiency with power and space. Toyota have just released the Prius V – a station wagon model of the famed hybrid and plan to expand this line to cover a whole category( upto 11 models) of hybrids that they think will eventually outsell ( and replace) their other models. Ford claim that by 2020 ,25% of their cars will be electrified but that more than a third of this will be hybrids. Nissan's golden grail is the full blown 'total electric car' that will set the benchmark for sustainable driving. But while they are working on this dream we will see a few hybrids emerge from their floorshops in the next few years. Lexus are also looking seriously at hybrids for the luxury segment while VW have stated that by 2018 upto 3% of all their cars will be electric. But in the meanwhile we can look forward to seeing their hybrids on the roads (beginning with the Jetta and Audi) this year itself.
All this is indeed good news for EVs, even if now only at the intermediary (but significant) hybrid phase. It shows a turning of the tide towards more enlightened engineering and customer choice. This popular acceptance of an alternative will also help in lowering unit costs, drive technical refinements and eventually bring it to a larger market. And to think we have only oil to thank for it! How paradoxical can life get?
Details

Category: Reviews
Published on Saturday, 05 February 2011 06:10
Written by Akash
Hits: 1147
Solar Charging for EVs : EVFuture's Solution

In India, electric vehicles have yet to take off as an accepted mainstream means of transportation.  This is due to several factors, not least of which is the fact the India's electrical grid is not stable enough to provide 24-hour a day electricity unlike many developed nations.
If EVs are to be accepted a lot has to be done at the infrastructure level from service stations to charge points.  This review takes a look at the prototype charging station developed by EVFuture and discusses some of it's key advantages and disadvantages.
EVFuture Solar Charging Station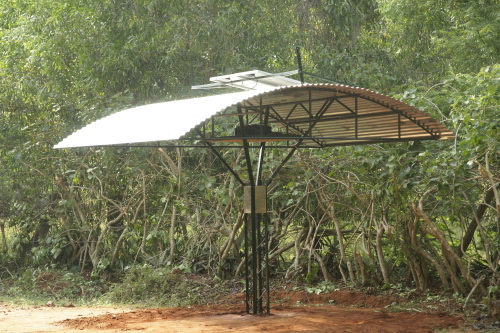 Specifications:
Battery Capacity:  150 AH/12v
Max Load:  800W @ 220V
Recharge via 4 solar panels @ 80W
The solar charging  station comprises of a center pole allowing vehicles to move under the roof from both sides.  It was decided to install a 220V inverter to make the charging compatible with various types of vehicle and the cost of efficiency.
Major problems with the current setup are improper air filters, with the result that electronics is subjected to high amounts of dust particles resulting in frequent failure.  In future revisions, the team is revising this and building an independent block with proper dust control ducts.
When designing a solar charging station proper requirements are paramount for successful functioning and therefore clients wishing to install them should study probable usage patterns for their EVs before considering this as an option.  The high cost of storage (batteries) and panels makes initial investment substantially higher than installing a plug point in a parking log for recharging using conventional electricity.
Solar charging stations are an ideal solution for remote locations that have no grid supply or where frequent outages make EV charging impossible but at present deployment will be limited those that have an itch to switch to cleaner greener alternatives and don't mind spending extra bucks.
For more information on solar charging technologies, contact the team through the form at www.evfuture.com